Heat Exchangers
SUCTION HEATERS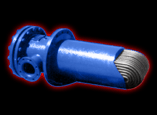 TEMCO Suction Heaters are used in general to heat viscous liquids as oil, tar and molasses in storage tanks and thereby reduce the viscocity so that they can be pumped conveniently from bulk storage to point of usage.
---
STORAGE TANK HEATERS

TEMCO Storage Tank Heaters are used to heat liquids in storage tanks. This units are great elements for tank liquid heating where direct contact with steam is prohibited. Generally this units are used as storage water heaters.
---
OIL COOLERS

TEMCO Oil Coolers are used in small processes, pilot plants or model installations, where accurate temperature control of heated or cooled fluids is required. A full range of incremental shell and surface sizes offers the correct surface at minimum investment. Widely used to control surplus heat genrated by auxiliary machinery, turbines, engines, and compressors.
---
SHELL & TUBE HEAT EXCHANGERS

TEMCO Heat Exchangers are Shell & Tube Exchangers used for heating or coolong fluids in the power & process industries. This units are designed to satisfy a wide variety of applications, even for condensate cooling in vacuum condensation processes.